Solaire Resort & Casino is a newly opened five-star hotel with an 18,500 sqm casino area and 500 luxurious rooms. My family and I experienced the best 5-star hotel has to offer when we stayed for two nights at Solaire. We checked in at two Deluxe Double Bay Side rooms that have 2 queen size beds each.
The Deluxe Double Bay View is a 43 square meter room with a 350-thread count linens, 46" LCD satellite television, private security box for laptop and other valuable things, iPod docking station, a must-have high speed internet access, spacious workstation, separate rain shower and bathtub, in room coffee and tea making facility (I just love the tea!) plus the floor-to-ceiling windows that frame a stunning view of Manila Bay.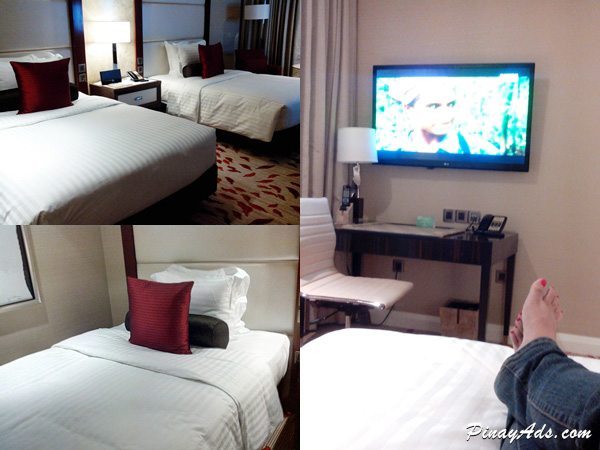 I am also thankful that hot and cold water is available, complete toiletries – from shaving kit, lotion, shampoo, conditioner to body wash. Two large towels and bath robes were also available and even a sewing kit! Though there are no bathroom slippers, so it's kind of cold for the feet.
Anyway, we were at room 611 while other members of the family were at room 614. Actually, Room 611 has an adjacent room and it would have been perfect if it weren't occupied when we checked in. Nevertheless, I love the very elegant yet relaxing ambiance of the hotel rooms and the hotel itself. It can even compete with the ones found in Macau when it comes to Hotel designs.
Since Solaire Hotel and Casino has just opened and some of its facilities were not yet open for the clients, like the hotel pool, the kids were a little bit disappointed since there's nothing else for them to do but to stay inside the room and watch TV, access the internet and go online. While the kids were inside the room, we went to the gaming area or the casino and tried our "gambling luck" there.
On the other hand, I just don't agree with the "open" casino design because even if it's off limits to the kids, still they can see what's inside, and also, if you're from the Parking area, you have to pass by the casino so everyone can see who's inside the gaming area. In addition, if you are on your way to the elevator going up to the hotel, slot machines are also visible. Food court is also located inside the casino so most of the time we just ordered food from the room to be delivered. Food ranges from Php500 – Php1,000 reasonable for a five-star hotel like Solaire Hotel and Casino. I just love the taste of 24 Karat Solaire Chocolate Cake!
Soliare Hotel and Casino has plenty of parking spaces for the 10-storey, 3,000 slots parking building. It has been master planned and conceptually designed by distinguished world-renowned architect and designer Paul Steelman of Las Vegas-based Steelman Partners. In this building, you can also find:
· Red Lantern
· Yakumi
· Strip
· Finestra
· Fresh
· Lucky Noodles
· Eclipse
· Breeze Bar & Grill and
· Zin Spa
Overall, I love my stay @ Solaire Hotel and Casino. I will surely treasure the five star hotel experience!
For more details about Solaire Hotel and Casino, you can visit and Like their Facebook Page here: https://www.facebook.com/SolaireResort or visit their site here: http://www.solaireresort.com/
Update:
Now is YOUR CHANCE to stay in Solaire Resort & Casino! Local residents can now avail of their special introductory rates* and save as much as Php 5,000!
Book your room now at www.solaireresort.com/reservations or through their hotline 888-8888.
Terms & Conditions:
This promo is valid until May 31, 2013.
Offer is applicable for bookings of local residents and expatriates with Alien Certificate of Registration.
Rates are subject to 10% service charge and 12% VAT.
Prior reservation is required. Offer is subject to availability.
Not valid in conjunction with other hotel promotions.
Solaire Resort & Casino reserves the right to the final interpretation of terms and conditions.
*Also includes expatriates with Alien Certificate of Registration
Sorry about the poor quality of the photos. They were just taken with a camera phone.