Safety is our first and most important priority at home. Since majority of Filipino mommies cook using Liquefied Petroleum Gas or LPG, we have to be certain that the LPG we are using at our homes are safe. In observance of Fire Prevention Month, PR Gaz hosted a PR Gaz Discovery Day last March 17 for mommy bloggers to help us understand more about our LPG. The discussion revolves around basic information of LPG tank, characteristics of LPG gas, and safety tips on use of LPG.
Here are the basic information about LPG gas and tank:
Pure LPG gas is odourless and colourless
LPG is heavier than air & lighter than water
LPG is not a poisonous gas but exposure can cause difficulty in breathing or asphyxiation
LPG can melt natural rubber
Ethyl Mercapthan is mixed with LPG for safety purpose to serve as warning sign when the LPG leaks
LPG Safety tips:
Usage
Do not connect or disconnect cylinders in the vicinity of a naked flame.
Do not use LPG in windy conditions ie more than 10km per hour.
Always keep cool and away from flames, sparks and heat.
Length of LPG hose should be not less than 1.2 meters
Check LPG tank for leaks before using
Always keep the tank in an upright position
Ensure that stove knob is close before opening the tank's valve
When using a match to start a fire, light the match first before turning the stove knob
Storage:
Always keep the tank in an upright position
Cylinders should be stored outside in a well ventilated area, be carried and stored upright at all times.
Never use LPG in a confined space. Do not place cylinder inside a closed compartment and keep the stove on a platform or table above the cylinder level.
Do not store or use petrol, flammable liquids or aerosols near LPG cylinders.
Ensure valves are turned off firmly when not in use
Maintenance:
Avoid using match or candle to find leakage, use soap and water solution instead.
Your gas cylinder is required to be re-tested and stamped every 10 years.
Do not attempt to refill dented or corroded cylinders.They must be returned to a test station for re-certification.
In case of emergency or in case of leakage:
Remove items that can start a fire and close the tank's valve to stop leak. It is recommended to place wet cloth over the part that has gas leak to avoid liquid leakage.
Avoid using match or candle to find leakage, use soap and water solution instead.
If possible, SWITCH OFF the regulator, if it is ON position
Open all doors and windows fully
Take cylinder in an open area and contact the distributor or emergency hotline
DO NOT switch ON/OFF any electrical equipment inside the house
Move people away from gas leaks.
PR Gaz is one of the leading LPG suppliers in the country. Ensuring the quality and safety of their brand, PR Gaz sells its own LPG brand through its own convenience store – PR Gaz Haus. Tracing their roots in Pangasinan and Zambales, the company continuous to be one of the fast growing LPG brand and used by thousands consumers and businesses all over Luzon.
PR Gaz LPG Products
2.7 kg – Ideal for outdoor use. Suited for the cooking needs of small families.
5 kg – Also ideal for outdoor use. Suited for the cooking needs of families with minimal budget. ..
11 kg – Commonly used in most householda
22 kg – Ideal for small commercial applications.  Typically used in bakeries and small restaurants/food outlets.
50 kg – Ideal for large restaurants and other commercial establishments
Also available at PR Gaz Haus convenience stores are various cooking equipment like double burners, single burners and cast-iron stoves (for commercial use), as well as LPG product accessories like clamps, hoses and regulators.
PR Gaz offers prompt, free delivery via 'texting', or a phone call to the nearest outlet. It also provides free stove-cleaning, check-up, repair and installation to customers.
PR Gaz: "Sigurado Dito, Timbang ay Eksakto!"
PR Gaz ensures its customers that it offers safe and quality products. PR Gaz also makes sure that every PR Gaz Tank has been filled accurately and sealed properly.
Every PR Gaz LPG tank has a seal with unique serial number
To know how to check if your newly bought LPG has a correct weight:
Determine the net content of LPG by weighing the filled cylinder and deducting the tare weight ( TW – weight of empty cylinder ) indicated on the cylinder's shoulder.
Example:
The TW of this cylinder is 11.8 kilos and the net content of the LPG is 11.0 kilos.
11.8 kilos (TW)
+ 11.0 kilos (Net Content)
_______________________
22.8 kilos (Gross weight)
The reading on your scale must be 22.8 kgs.
To make sure you are buying a Genuine LPG Tank:
Buy LPG cylinders from authorized dealers.
Confirm if the cylinder's collar (engraved). Consumers are enjoined to make sure that the following markings are on the LPG cylinder prior to purchase: Manufacturer's trade name, Date of manufacture / requalification, Serial number, tare weight, water capacity in liters

Check the cylinder is it is clean; typically a genuine LPG tank is clean and new.
Weigh the cylinder on a DOE required weighing scales within the store to check if it matches the claimed weigh.
Whew! With so little time, we really learned A LOT from PR Gaz Discovery Day!  Thank you so much PR Gaz for letting us visit your site and sharing us the safety guidelines and tips about LPG!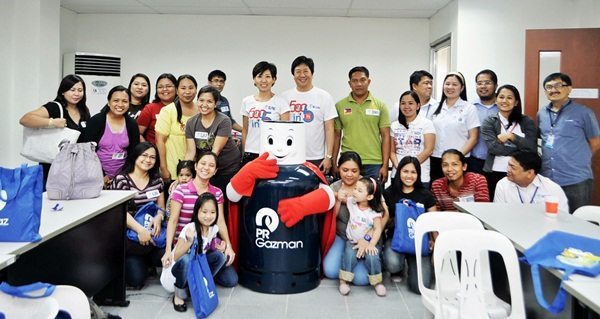 Ooh before I forget, aiming to empower Filipinos, particularly women, PR Gaz offers franchises to generate modest income while providing basic and safe cooking gas to Filipino families. Visit their website for more information about their franchise program, http://www.prgaz.com.ph.
More photos during PR Gaz Discovery Day (credits to PR Gaz)