Carlito Vergara emerged victorious in Shell Rimula Tsuperstar Grand Finals last October 5 at the Sta Lucia East Grand Mall. The event was a culminating activity of Shell Rimula in support of the country's jeepney drivers and showcased the diverse talents of these acknowledged 'tsuperstars'.
During the grand finals, Vergara bested the other 9 finalists. He took home the whopping P500,000 and a three- year supply of Shell Rimula. He also won the People's Choice Tsuperstar award.
Rodrigo Belarmino won 1st Runner Up, while Rolando Salazar bagged the 2nd Runner Up.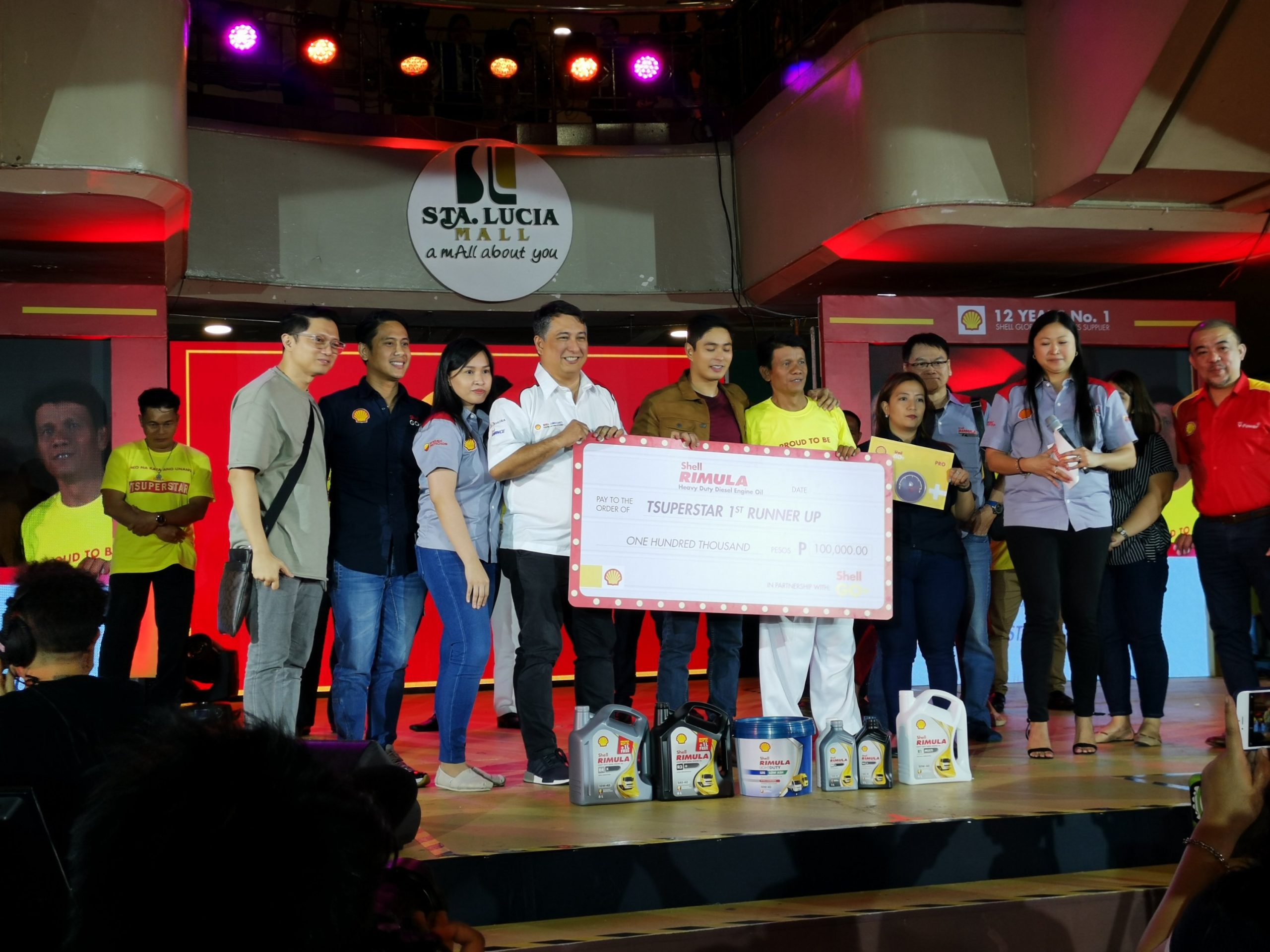 The Shell Rimula "Tsuperstar" project is the energy leader's campaign that recognizes jeepney drivers from all over the Philippines who work day and night to provide a brighter future for their families.
Present during the event was actor, TV personality, and Shell Rimula ambassador Coco Martin who gave the attendees and grand finalists a special performance accompanied by rappers Smugglaz and Bassiyo. The finalists were also given an opportunity for a meet-and-greet with Coco.
Coco himself comes from a family of jeepney drivers and he's not one to hide this fact. His grandfather made a living driving a jeepney and was able to provide for his family and meet the needed expenses in raising his children Coco's father continued this particular family legacy and provided for the family by driving a jeepney as well.
According to Recca Menchavez, Brand Manager for Shell Rimula, Shell Rimula has always been on the side of Filipino drivers everywhere. Whether they drive jeepneys or UV Express vans, Shell Rimula is their most-trusted engine partner. Their continuous hard work to provide for their families is the reason why Shell considers them the We call them 'tsuperstars'
"We call them 'tsuperstars' because we believe that they are not only some of the most hardworking people in our society, they are also the most underappreciated. We count on them to take us to work or to school, but we really don't get to thank them enough," said Recca
Recca expressed her gratitude for every driver who has worked tirelessly on the road with Shell Rimula as their chosen engine oil. "This event isn't simply a competition of who's the best in talent, this is our way of honoring and showing support to our Filipino drivers for everything that they have done for us," she stressed. "They also deserve to take some time off and enjoy," she added.
Pilipinas Shell has continuously pushed for efforts to improve the lives of Flipino drivers. The 'Tsuperstar' campaign is only one project that has allowed Pilipinas Shell to honor divers who have been long-time supporters of the brand.
"Our drivers help make the future of our country that much brighter. And they can look forward to more offerings from Shell" Recca shared. "No matter what you drive and what you do for a living, Shell will always make sure that there's something that best fits your engine's needs," she added.
In its 105 years of helping build the nation and providing energy that makes the future, Shell has become a market leader in engine lubricants not only here in the Philippines but in over 100 countries. Shell Lubricants offers a wide variety of oil products for light- and heavy-duty vehicles, cars, and motorcycles.