Filipino cuisine also has its share of influence from the Chinese. This is why it's not a surprise that we have also grown to love Chinese food like noodles and dimsum. But just like in the Philippines, China also has different flavors to offer from their different regions. Since we grew up with mostly Cantonese dishes available, it is exciting to try the authentic Shanghainese cuisine brought by Bai Nian Tang Bao. I got to sample some of their savory dishes during the Bai Nian Tang Bao Food Tasting and enjoyed the experience.
Bai Nian Tang Bao is a world-famous restaurant known for their soup dumplings. Their authentic Xiao Long Bao is meticulously prepared using the original recipe that dates back to 1786. That says a lot about the authenticity and delicious flavors of their soup dumpling. The Xiao Long Bao also puts the first branch (Shanghai) of this restaurant in the tourist's maps. Visitors from around the world would line up just to get a taste of the famous Xiao Long Bao in Shanghai. But now you don't have to go to Shanghai to savor the flavors on an authentic Xiao Long Bao. Bai Nian Tang Bao already has over 300 branches in China and several more in the US and Korea. And Thanks to restaurant owners Robert Lim, Paul Li, and Christine Li, it is now here in the Philippines.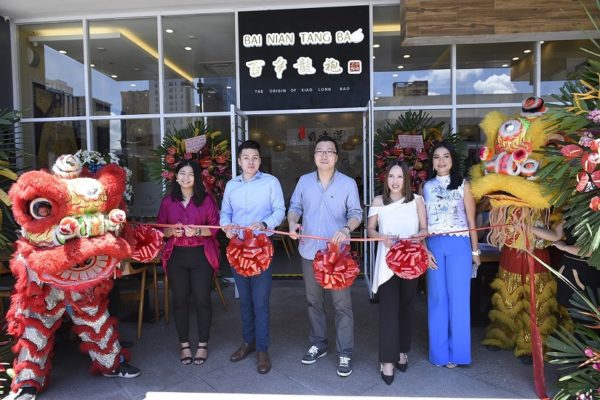 If you are wondering what the fuss is all about, then the best way to find out is to try it. But just to whet your appetite this is what I heard – Paul Li reveals, "Bai Nian Tang Bao's secret is in the soup — it takes around 12 hours to cook it. It also takes about 20 steps to make an original Xiao Long Bao, and all this is made fresh in our kitchen!"
Aside from the authentic and original Xiao Long Bao, the restaurant also takes pride in its Crab Roe Xiao Long Bao. This dish is said to have royal origins because it was one of the specialties in the Emperor's menu. Now, we can also have our fill of this once royal dish. The Crab Roe used for this Xiao Long Bao is only sourced from a lake in Shanghai and shipped to the Philippines to ensure that diners get an authentic taste of Shanghainese cuisine.
Another must try in the restaurant is the Giant Tang Bao. This dish is actually one of my favorites because it's not just huge in size but also big on flavors. It was my first time to see a Tang Bao so huge that you need a straw to sip the soup. Sipping hot soup from a straw can also be an unusual experience but I enjoyed it because the food was great.
Still can't have enough of Xiao Long Bao? Well then get ready to explore more flavors from Bai Nian Tang Bao. These include: Chicken Soup Pork Xiao Long Bao, Scallops and Pork Xiao Long Bao, and Golden Corn Pork Xiao Long Bao. There is also a pan-fried version that you can try. It is called Shanghai Golden Sheng Jian Bao, a traditional Shanghai snack that's crispy on the outside with juicy soup on the inside!
Noodle dishes like the Three Seafood Treasure Fried Noodles or the Shanghai Scallion Oil Noodles are also available for the noodle lovers. As for Dimsum fans, don't pass up the Sticky Rice Dimsum for a fresh way to enjoy dimsum.
Now if its rice that you really want, then you may choose from their delectable rice dishes, Beef Fried Rice orSpecial Sausage Fried Rice paired with Shanghai Special Braised Pork or Shanghai Style Fish Fillet. The Braised Pork tastes like asado while the fish is savory and sweet just the way I like it.
Aside from their world famous Xiao Long Bao, Bai Nian Tang Bao was also given various recognition by culinary organizations. These include the 4th China Food Festival Golden Award (2002), Famous Snack Brand (China Cuisine Association, 2002), and Shanghai's ATP Master Reporters and Athletes Designated Food (2005). In 2006, the restaurant officially became a member of Shanghai's Xiao Long Bao Association. It has then joined and won food competitions in Germany and Shanghai XingShang Channel. Bai Nian Tang Bao also represented the Shanghai Xiao Long Bao in Japan's New Year Festival last 2017.
I enjoyed exploring the authentic Shanghainese dishes offered by Bai Nian Tang Bao. The dishes aren't just flavorful and filling, they also come with great refreshments. My personal favorite is the Wong Lo Kat Herbal Tea. I used to buy a lot of these whenever I visit China now I don't have to hoard them as its available here already.
Aside from a fresh and authentic way to enjoy Chinese dishes, this restaurant also offers you a taste of Xiao Long Bao that is fit for a royal taste. If you're now ready for a Shanghainese Cuisine adventure, then just troop to Bai Nian Tang Bao Uptown Parade BGC to get your fill.
For more information about Bai Nian Tang Bao contact us at 09176238260 / 02(838-1716) or email [email protected]. Follow them on Facebook and Instagram @bainiantangbaoph
Operating hours are from M-TH, 11AM-10PM / F, 11AM-3AM / Sat-Sun, 11AM-12MN. Bai Nian Tang Bao is also available on bookyph and delivers on Honestbee.