More than 250,000 members of the state-run Social Security System (SSS) will benefit from the Loan Restructuring Program (LRP) with penalty condonation that will be offered from April 2 to October 1, 2018. extended for another six months or until April 1, 2019.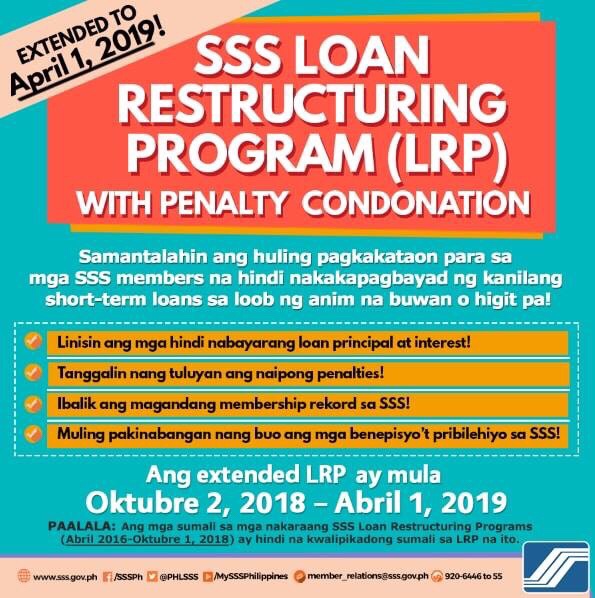 The state-run Social Security System (SSS) on Friday announced that the Loan Restructuring Program (LRP) with penalty condonation was extended for another six months or until April 1, 2019.
"We are glad to announce that the second Loan Restructuring Program with penalty condonation will be extended for another six months to accommodate more members who have outstanding short-term obligations with the SSS," SSS President and Chief Executive Officer Emmanuel F. Dooc said.
"The LRP is one of our ways to extend our assistance to our members who were not able to pay on time their loan obligations with the SSS. We understand that there were untoward instances like the occurrence of natural calamities such as earthquakes and typhoons that made loan repayments quite uneasy for them," he added.
SSS implemented the first LRP in April 2016 with a one-year availment period that generated roughly P6 billion for the pension fund and benefited more than 800,000 individual member-borrowers.
"While many have benefited from the Loan Restructuring Program implemented in 2016, we have also received numerous requests from members to extend or re-implement it. As I can recall, members flocked to our branches on the deadline of the previous LRP last April 27, 2017. So for those who were not able to apply, this is your time to clean your outstanding loan balance and regain your good-standing with SSS," Dooc said.
The LRP allows member-borrowers to settle their overdue loan principal and interest in full or by installment under a restructured term depending on their capacity. For both schemes, SSS shall waive all the loan penalties after the member has completed paying the restructured loan.
WHO ARE ELIGIBLE TO APPLY?
All member-borrowers with any of the following past due short-term loans are eligible for the program.
~ Calamity Loan
~ Salary Loan
~ Salary Loan Early Renewal Program (SLERP)
~ Emergency Loan
~ Educational Loan (old)
~ Study Now Pay Later Plan
~ Voc Tech Loans
~ Y2K Loans
~ Investments Incentive Loan
For past due short-term loans, except Calamity Loan and SLERP, member-borrower must have previously lived/worked in a calamity/disaster-stricken area as declared by the National Disaster Risk Reduction and Management Council (NDRRMC) or the National Government.
The outstanding short-term loan/s must be past due for a period of at least six (6) months as of the first day of restructuring period.
The member-borrower:
~ Must be living or working in calamity/ disaster declared areas as of disaster date or as of application date. "Living" shall refer to the home address of the member-borrower (See Areas Covered);
~ Must be under 65 years old at the end of the installment term;
~ Has not been granted any final benefit, i.e. total permanent disability or retirement;
~ Has not been disqualified due to fraud committed against the SSS;
Member-borrowers with final benefits application (Death, Total Disability, Retirement) whose contingency date is on or before the last day of the availment period of the restructuring program. Said final benefit claim must be filed within the availment period.
AREAS COVERED:
For covered short-term loan programs, below is the list of covered calamities or disasters declared by NDRRMC as under the state of calamity:
Ondoy (2009)
Sendong (2011)
Pedring and Quiel (2012)
Pablo (2012(
Labuyo (2013)
Maring (2013)
Santi (2013)
Armed Conflict in Zamboanga City (2013(
Earthquake in Bohol and Cebu (2013(
Yolanda (2013)
Agaton  (2013)
Glenda  (2014)
Mario (2014)
Ruby (2014)
Seniang (2015)
Lando (2015)
Nona (2015)
Lawin (2016)
Nina (2016)
Earthquake in Surigao del Norte (2017)
Earthquake in Leyte (2017)
Armed Conflict in Marawi City (2017)
Urduja/Vinta (2017)
Mayon Volcano Phreatic Eruption (2018)
AVAILMENT PERIOD
October 2, 2018 – April 1, 2019 (Six months Period).
RESTRUCTURED LOAN AND PAYMENT TERM
The principal and accrued interests of all past due short-term loans of the member-borrower shall be consolidated into one Restructured Loan (RL1) payable either in full of installment payment.
Full payment – payable within 30 days from the approval date of restructuring application
Installment payment – payable in equal monthly amortization over number of months to pay based on RL1 Range below

| | |
| --- | --- |
| RL1 Range (Sum of Principal and Interest) | Number of Months to Pay |
| P 2,000.00 to P 18,000.00 | 12 months |
| P 18,000.01 to P 36,000.00 | 24 months |
| P 36,000.01 to P 54,000.00 | 36 months |
| P 54,000.01 to P 72,000.00 | 48 months |
| More than P 72,000.00 | 60 months |

INTEREST RATE AND PENALTY
For installment term, RL1 shall be subject to interest rate of 3% per annum computed on a diminishing principal balance over the number of months to pay.
A penalty of 0.5% per month shall be charged against the amortization due for every month unpaid during RL1 term.
DUE DATES AND MANNER OF PAYMENT
Monthly installment shall be due for payment every 10th day of the month following the amortization month. Amortization shall start on the month immediately following the approval date of the Restructured Loan.
Example:
 Restructured Loan Approval Month: APRIL
 1st amortization month: MAY
 1st installment amortization is due on JUNE 10
Payment shall be made through any SSS branch with tellering facilities or authorized collection agents of the SSS.
How to Apply for SSS Loan Restructuring Program 2018 or commonly known as SSS Loan Condonation
Secure updated Statement of Loan Balance for Loan Restructuring Program (2 copies) from the nearest SSS branch or foreign office prior to submission of this form.
Download and fill out this form in one (1) copy
Fill out and check the applicable items of Part I.C. Certification and Undertaking. Items 1 and 2 are not applicable with death benefit claim.
Secure copy of Notice of Approval of Loan Restructuring Application prior to payment.
Submit the form to the nearest SSS branch or foreign office with the following required documents (use the table Documentary Requirements Guide)
If member-borrower is personally applying for the restructuring, present original copy of valid identification cards/documents.
If a representative is filling for the restructuring program, submit the following:
Letter of Authority– original copy
Photocopies of two (2) valid identification cards each of the member-borrower and the filer, at least one (1) with photo and both with signature. Present both original copies of the identification.
Take advantage of this SSS Loan Restructuring Program 2018 or commonly known as SSS Loan Condonation. Feel free to share this article to your friends and relatives who have past due loans