Last week, I made a QR Code for Pinay Ads. I found out that my new phone can read bar codes, that's why I decided to make one for my site.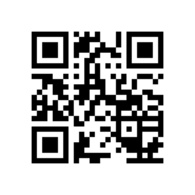 A QR Code is a matrix code (or two-dimensional bar code) created by Japanese corporation Denso-Wave in 1994. The "QR" is derived from "Quick Response", as the creator intended the code to allow its contents to be decoded at high speed.
If you have a QR Code reader or bar code reader (I'm not sure if it will work with Symbol LS2208), try scanning the image (left) and let me know what's the result.